gnuLAB Paraglider

gnuLAB
is a basic paraglider of 28 cells, moderate aspect ratio of 4,1, and maximum glide ratio of 6.5:1.
The studied size is the "M" of 70 to 90 kg of gross weight in flight.
| | |
| --- | --- |
| Name: | gnuLAB |
| Area | 25.75 m2 |
| Total weight range | 70-90 kg |
| Span | 10.28 m |
| Aspect ratio | 4.1 |
| Cells number | 28 |
| Closed cells | 4 |
| Aifoil tickness | 14% |
| Max glide estimation | 6.5:1 |
| Homologation | none |
The planes for its free study and construction are attached here:
- format PDF gnuLAB-20070815.pdf
PDF
- format CAD gnuLAB-20070815.zip
CAD
(includes the full 3D model of the paraglider )
Because it is an
experimental prototype not homologated
and never to have flown no model until now (15 of August 2007), I cannot assure nor guarantee nothing. I cannot either guarantee that the geometric model is correct (the subroutine of flat development of the panels will work correctly?). I believe that it will fly as planned, but surely will be necessary to correct experimentally some small of the trim and the angle of incidence of the tips of the wing. The improvements introduced on the first prototype will be incorporated to the following planes.
I have taken 6 months, working in free short whiles, until obtaining the project. The used tools have been the program XFOIL for the study of the profiles, a program of CAD in 3D to draw the model, and several subroutines of calculation and drawing written in language Fortran 77 and compiled with g77 in an operating system Kanotix GNU/Linux. The process has been the following one:
Election of the planform
Distribution of the profiles
Definition of the wing in frontal view
Variation of the torsion along the span (whasin)
Election of the profiles (XFOIL)
Calculation of the air intakes (XFOIL)
Reinforcements in leading edge
Model 3D of the wing (CAD)
Subroutine of flat development of the panels (Fortran)
Law of ovalization on the panels (CAD, but I will incorporate it to Fortran)
Study of the longitudinal equilibrium of paraglider (subroutines Fortran, spreadsheets, and analysis of other paragliders)
Calculation of suspension lines (subroutines in Fortran and CAD)
Model 3D of whole paraglider (CAD)
Calculation and drawing of internal charge straps (subroutine Fortran)
Delineation of planes (CAD)
License:
The planes are under license type GNU General Public Licence 2.0 employee in free software
http://www.gnu.org
. With this type of license, anyone is free to copy the code (=planes), to study it, to modify it, and to distribute it, with the only condition for maintaining the license GPL, for putting in public domain the introduced modifications, and for naming the authors of each version.
Fig 1. Model 3D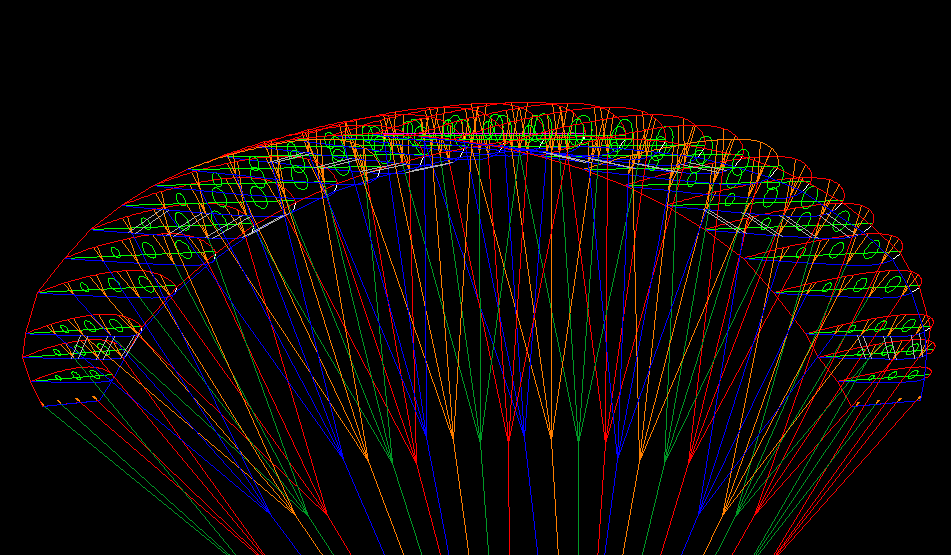 Fig 2. Detail model 3D. Very basic model, but with tecnology of internal load straps (in grey).
Fig 3. Upper view
Fig 4. Lateral view
The 32 planes in format .png:



01. Index and


general data



02. Plant



03. Front view



04-01. Profiles



04-02



04-03



04-04



04-05



04-06



04-07



04-08



05-01. Panels



05-02



05-03



05-04



05-05



05-06



05-07



05-08



05-09



05-10



05-11



05-12



05-13



05-14



05-15



05-16



05-17



06-01. Mylars
reinforcements
in leading edge



06-02. Internal
load straps



07. Lines



08. Model 3D

gnuLAB
it is a simple project…, but it is the research
laboratory
for other wings that are to come:
speedLAB
(speed flying) and the
hiLAB
(high aspect ratio)
Important note, August 26 of 2007:
I have detected, already in drawing-board stage, that the ends of the wing possibly are with little angle of incidence. In order to correct it would be necessary to trim lines CU3 in 2 cm, and lines DU3 in 3 cm. If you want to construct the wing, you can consult to me by email as they are the last adjustments.
index laboratori d'envol