Typical diameters:

Crossbar: 60 mm
Leading edge: 52 to 48 mm (tubing 0,9 mm thickness)
Keel: 45 mm
Battens: 9 mm (3/8 x 0.035)
Triangle and king post: 25 mm x 1.6 mm thickness

Early standard hang gliders had fewer tubing diameters.

LE SPS tubes
1-5/8" x 0,058 (41,28 x 1,47) LE/Keel
1-1/2" x 0.058 (38,1 x 1,47) LE/Keel
1" x 0,065 (25,4 x 1,65) Antenna
3/4" x 0,065 (19,05 x 1,65) Triangle


WW Falcon 3 tubes
Leading edge: 50x0.9 and 52x0.9 mm
Keel: 42x0.9 mm
Crossbar: 62x0.9 mm and 60x0.9 mm

WW Harrier (1981)
Leading edges 2" x 0.049 and 1.75" x 0.049
Keel 1.75" x 0.058
Xbar 1.75" x 0.049 + inner sleeve 1.625" x 0.035
Control bar leg 1.125" x 0.058 + inner sleeve 1.035"
Control bar base 1.125" x0.058
WW Raven (1979)
Leading edge 1.75" x 0.049 (44.45 x 1.24)
Keel 1.5" x 0.049 (38.1 x 1.24)
Xbar 1.75" x 0.049
(44.45 x 1.24)
Control bar 1.125"

La Mouette Sphinx


La Mouette Atlas

(Please send me data)
Seedwings Sensor 1 (1975)
Aluminum 6061-T6 1-3/4" x 0.049
3. Maximun bending moment


Why so many differences in the diameters of the tubes?
Depends on several factors:
a) Method of calculation
b) Design criteria (maximum load)
c) Size of the structure and types of joints between tubes
d) Geometry of the tubes (outer diameter, thickness)
e) Alloy type and temper
f) Commercial availability
This section will analyze the influencing of factors d) and e)

Hang gliding tubes are under efforts of tensile, compression, bending, torsion and shear. The most significant efforts are bending and compression. The compression is greatest in the cross bar, and having to avoid the phenomenon of lateral buckling. The lateral buckling is avoided, also, by bending resistant sections. Then, the most important feature of the tubes of a delta is its resistance to bending.
Below is analyzed by the classical theory of strength of materials, and the theory of elasticity, maximum stress and maximum bending moment in a tube of outer diameter "D" and inner diameter "d".




Fig 1: Maximun bending moment in tubes

The conclusion is that the maximum moment resisted is:
where:
k = geometrical factor defined by

Laboratori d'envol

as

k = pi x (D
4
-d
4
)/(32 x D)
E = modulus of elasticity of the material (aluminum alloys is 70 Mpa aprox)
sigma_max = maximum stress in the material, at the criteria of the designer, and probably less than the yield strenght (55 Mpa to 462 Mpa)

The geometric K-factor, is of the utmost importance, since it allows to compare the flexural capacity of tubes of various diameters and wall thicknesses.
The final choice of the tube is made by multiplying the factor k by the stress and modulus of elasticity of the alloy used. Previously, the maximal efforts in the estructure must have calculated (topic for another article).

Below, K-factor, calculated for tubes used in HG: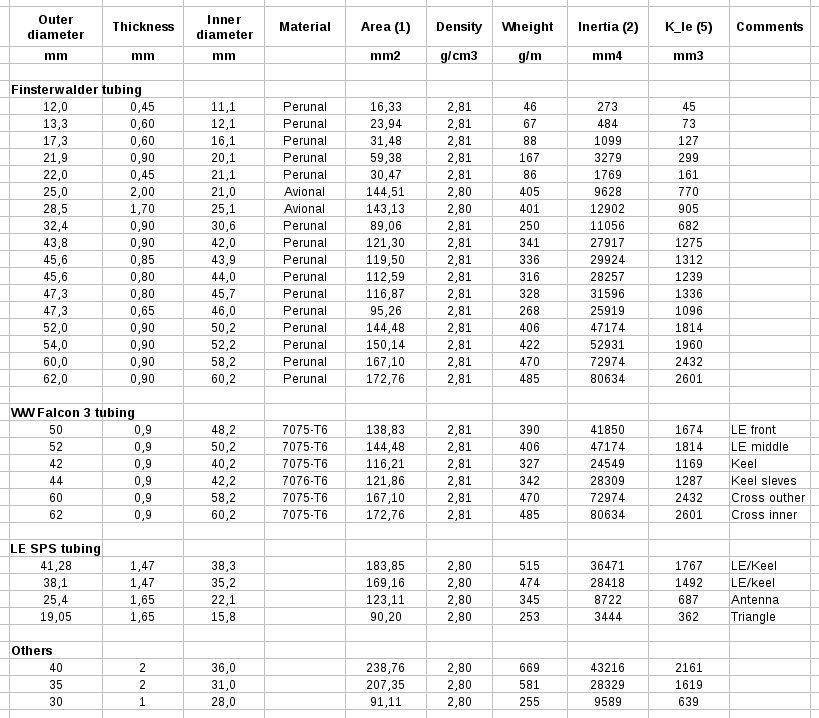 Table 2: K-factor and geometric properties of HG tubing. Also, in openoffice format: k-factor.ods



4. Aluminum tubing sizes


Commercial tubing sizes:
(non metric units: 1inch=25,4 mm 1 lbs=453,6g 1ft=30,48cm)
| | | | | |
| --- | --- | --- | --- | --- |
| Ext diameter x wall (inch) | Int diameter (inch) | lbs per ft | lbs unit | ft unit |
| 3/16 X 0.035 | 0.118 | 0.020 | 0.24 | 12 |
| 3/16 X 0.049 | 0.090 | 0.026 | 0.31 | 12 |
| 3/16 X 0.058 | 0.072 | 0.277 | 0.33 | 12 |
| 1/4 X 0.035 | 0.180 | 0.028 | 0.33 | 12 |
| 1/4 X 0.049 | 0.152 | 0.036 | 0.44 | 12 |
| 1/4 X 0.058 | 0.134 | 0.041 | 0.49 | 12 |
| 5/16 X 0.035 | 0.243 | 0.036 | 0.43 | 12 |
| 5/16 X 0.049 | 0.215 | 0.047 | 0.57 | 12 |
| 5/16 X 0.058 | 0.197 | 0.054 | 0.65 | 12 |
| 3/8 X 0.035 | 0.305 | 0.044 | 0.53 | 12 |
| 3/8 X 0.049 | 0.277 | 0.059 | 0.71 | 12 |
| 3/8 X 0.058 | 0.259 | 0.068 | 0.82 | 12 |
| 3/8 X 0.065 | 0.245 | 0.074 | 0.89 | 12 |
| 7/16 X 0.035 | 0.368 | 0.052 | 0.62 | 12 |
| 7/16 X 0.049 | 0.340 | 0.070 | 0.84 | 12 |
| 7/16 X 0.065 | 0.308 | 0.089 | 1.07 | 12 |
| 1/2 X 0.028 | 0.444 | 0.049 | 0.59 | 12 |
| 1/2 X 0.035 | 0.430 | 0.060 | 0.72 | 12 |
| 1/2 X 0.049 | 0.402 | 0.082 | 0.98 | 12 |
| 1/2 X 0.058 | 0.384 | 0.095 | 1.14 | 12 |
| 1/2 X 0.065 | 0.370 | 0.104 | 1.25 | 12 |
| 1/2 X 0.083 | 0.334 | 0.128 | 1.54 | 12 |
| 5/8 X 0.035 | 0.555 | 0.076 | 0.91 | 12 |
| 5/8 X 0.049 | 0.527 | 0.104 | 1.25 | 12 |
| 5/8 X 0.058 | 0.509 | 0.121 | 1.45 | 12 |
| 5/8 X 0.065 | 0.495 | 0.134 | 1.61 | 12 |
| 3/4 X 0.035 | 0.680 | 0.092 | 1.10 | 12 |
| 3/4 X 0.049 | 0.652 | 0.127 | 1.52 | 12 |
| 3/4 X 0.058 | 0.634 | 0.148 | 1.78 | 12 |
| 3/4 X 0.065 | 0.620 | 0.164 | 1.97 | 12 |
| 3/4 X 0.083 | 0.584 | 0.205 | 2.46 | 12 |
| 3/4 X 0.125 | 0.500 | 0.289 | 3.47 | 12 |
| 7/8 X 0.035 | 0.805 | 0.109 | 1.31 | 12 |
| 7/8 X 0.049 | 0.777 | 0.150 | 1.80 | 12 |
| 7/8 X 0.058 | 0.759 | 0.175 | 2.10 | 12 |
| 7/8 X 0.065 | 0.745 | 0.199 | 2.33 | 12 |
| 7/8 X 0.083 | 0.709 | 0.243 | 2.92 | 12 |
| 1 X 0.035 | 0.930 | 0.125 | 1.50 | 12 |
| 1 X 0.049 | 0.902 | 0.172 | 2.06 | 12 |
| 1 X 0.058 | 0.884 | 0.202 | 2.42 | 12 |
| 1 X 0.065 | 0.870 | 0.225 | 2.70 | 12 |
| 1 X 0.083 | 0.834 | 0.281 | 3.37 | 12 |
| 1 X 0.125 | 0.750 | 0.404 | 4.85 | 24 |
| 1 X 0.188 | 0.625 | 0.564 | 13.54 | 24 |
| 1 X 0.250 | 0.500 | 0.708 | 16.99 | 24 |
| 1-1/8 X 0.035 | 1.055 | 0.141 | 1.69 | 12 |
| 1-1/8 X 0.058 | 1.009 | 0.229 | 2.75 | 12 |
| 1-1/8 X 0.065 | 0.995 | 0.255 | 3.06 | 12 |
| 1-1/4 X 0.035 | 1.180 | 0.157 | 1.88 | 12 |
| 1-1/4 X 0.049 | 1.152 | 0.217 | 2.60 | 12 |
| 1-1/4 X 0.058 | 1.134 | 0.255 | 3.06 | 12 |
| 1-1/4 X 0.065 | 1.120 | 0.285 | 3.42 | 12 |
| 1-1/4 X 0.065 | 1.120 | 0.285 | 3.42 | 12 |
| 1-1/4 X 0.083 | 1.084 | 0.358 | 4.30 | 12 |
| 1-1/4 X 0.125 | 1.000 | 0.520 | 12.48 | 24 |
| 1-1/4 X 0.250 | 0.750 | 0.924 | 22.20 | 24 |
| 1-3/8 X 0.035 | 1.305 | 0.173 | 2.08 | 12 |
| 1-3/8 X 0.049 | 1.277 | 0.240 | 2.88 | 12 |
| 1-3/8 X 0.058 | 1.259 | 0.282 | 3.38 | 12 |
| 1-1/2 X 0.035 | 1.430 | 0.189 | 2.27 | 12 |
| 1-1/2 X 0.049 | 1.402 | 0.263 | 3.16 | 12 |
| 1-1/2 X 0.058 | 1.384 | 0.309 | 3.71 | 12 |
| 1-1/2 X 0.065 | 1.370 | 0.345 | 4.14 | 12 |
| 1-1/2 X 0.065 | 1.370 | 0.345 | 4.14 | 12 |
| 1-1/2 X 0.083 | 1.334 | 0.435 | 5.22 | 12 |
| 1-1/2 X 0.125 | 1.250 | 0.630 | 7.56 | 12 |
| 1-1/2 X 0.125 | 1.250 | 0.630 | 15.12 | 24 |
| 1-1/2 X 0.188 | 1.124 | 0.911 | 21.86 | 24 |
| 1-1/2 X 0.250 | 1.000 | 1.150 | 27.60 | 24 |
| 1-1/2 X 0.375 | 0.750 | 1.599 | 38.78 | 24 |
| 1-5/8 X 0.035 | 1.555 | 0.206 | 2.47 | 12 |
| 1-5/8 X 0.049 | 1.527 | 0.285 | 3.42 | 12 |
| 1-5/8 X 0.058 | 1.509 | 0.336 | 4.03 | 12 |
| 1-3/4 X 0.035 | 1.680 | 0.222 | 2.66 | 12 |
| 1-3/4 X 0.049 | 1.652 | 0.308 | 3.70 | 12 |
| 1-3/4 X 0.065 | 1.620 | 0.405 | 4.86 | 12 |
| 1-3/4 X 0.083 | 1.584 | 0.510 | 6.12 | 12 |
| 1-3/4 X 0.125 | 1.500 | 0.750 | 9.00 | 24 |
| 1-3/4 X 0.250 | 1.250 | 1.385 | 33.24 | 24 |
| 1-3/4 X 0.375 | 1.000 | 1.905 | 45.72 | 24 |
| 1-7/8 X 0.058 | 1.759 | 0.389 | 4.67 | 12 |
| 2 X 0.035 | 1.930 | 0.254 | 3.05 | 12 |
| 2 X 0.049 | 1.902 | 0.353 | 4.24 | 12 |
| 2 X 0.058 | 1.884 | 0.416 | 4.99 | 12 |
| 2 X 0.065 | 1.870 | 0.465 | 5.58 | 12 |
| 2 X 0.065 | 1.870 | 0.465 | 5.58 | 12 |
| 2 X 0.083 | 1.834 | 0.590 | 7.08 | 12 |
| 2 X 0.125 | 1.750 | 0.870 | 10.44 | 12 |
| 2 X 0.125 | 1.750 | 0.870 | 20.88 | 24 |
| 2 X 0.188 | 1.625 | 1.259 | 30.20 | 24 |
| 2 X 0.250 | 1.500 | 1.620 | 38.88 | 24 |
| 2 X 0.375 | 1.250 | 2.250 | 54.00 | 24 |
| 2 X 0.500 | 1.000 | 2.804 | 68.22 | 24 |
| 2-1/4 X 0.049 | 2.152 | 0.398 | 4.78 | 12 |
| 2-1/4 X 0.065 | 2.120 | 0.520 | 6.24 | 12 |
| 2-1/4 X 0.065 | 2.120 | 0.520 | 6.24 | 12 |
| 2-1/4 X 0.083 | 2.084 | 0.660 | 7.92 | 12 |
| 2-1/4 X 0.095 | 2.060 | 0.756 | 9.07 | 12 |
| 2-1/4 X 0.125 | 2.000 | 0.981 | 23.54 | 24 |
| 2-1/4 X 0.250 | 1.750 | 1.850 | 44.40 | 24 |
| 2-1/4 X 0.375 | 1.500 | 2.598 | 62.35 | 24 |
| 2-1/4 X 0.500 | 1.250 | 3.233 | 77.59 | 24 |
| 2-3/8 X 0.250 | 1.875 | 1.960 | 47.04 | 24 |
| 2-3/8 X 0.500 | 1.375 | 3.463 | 83.11 | 24 |
| 2-1/2 X 0.049 | 2.402 | 0.444 | 5.33 | 12 |
| 2-1/2 X 0.065 | 2.370 | 0.580 | 6.96 | 12 |
| 2-1/2 X 0.065 | 2.370 | 0.580 | 6.96 | 12 |
| 2-1/2 X 0.083 | 2.334 | 0.740 | 8.88 | 12 |
| 2-1/2 X 0.125 | 2.250 | 1.100 | 26.40 | 24 |
| 2-1/2 X 0.250 | 2.000 | 2.080 | 49.92 | 24 |
| 2-1/2 X 0.375 | 1.750 | 2.940 | 70.56 | 24 |
| 2-1/2 X 0.500 | 1.500 | 3.700 | 88.80 | 24 |
| 2-1/2 X 0.750 | 1.000 | 4.860 | 116.64 | 24 |
| 2-3/4 X 0.125 | 2.500 | 1.210 | 29.04 | 24 |
| 2-3/4 X 0.250 | 2.250 | 2.310 | 55.44 | 24 |
| 2-3/4 X 0.500 | 1.750 | 4.160 | 99.84 | 24 |
| 3 X 0.049 | 2.902 | 0.530 | 6.36 | 12 |
| 3 X 0.065 | 2.870 | 0.700 | 8.40 | 12 |
| 3 X 0.065 | 2.870 | 0.701 | 8.42 | 12 |
| 3 X 0.083 | 2.834 | 0.890 | 10.68 | 12 |
| 3 X 0.125 | 2.750 | 1.330 | 15.96 | 12 |
| 3 X 0.125 | 2.750 | 1.330 | 31.92 | 24 |
| 3 X 0.188 | 2.625 | 1.953 | 46.87 | 24 |
| 3 X 0.250 | 2.500 | 2.540 | 60.96 | 24 |
| 3 X 0.375 | 2.250 | 3.640 | 87.36 | 24 |
| 3 X 0.500 | 2.000 | 4.620 | 110.88 | 24 |
| 3 X 0.625 | 1.750 | 5.480 | 131.52 | 24 |
| 3 X 0.750 | 1.500 | 6.240 | 149.76 | 24 |
| 3 X 1.000 | 1.000 | 7.389 | 177.34 | 24 |
Table 3: Tubing sizes