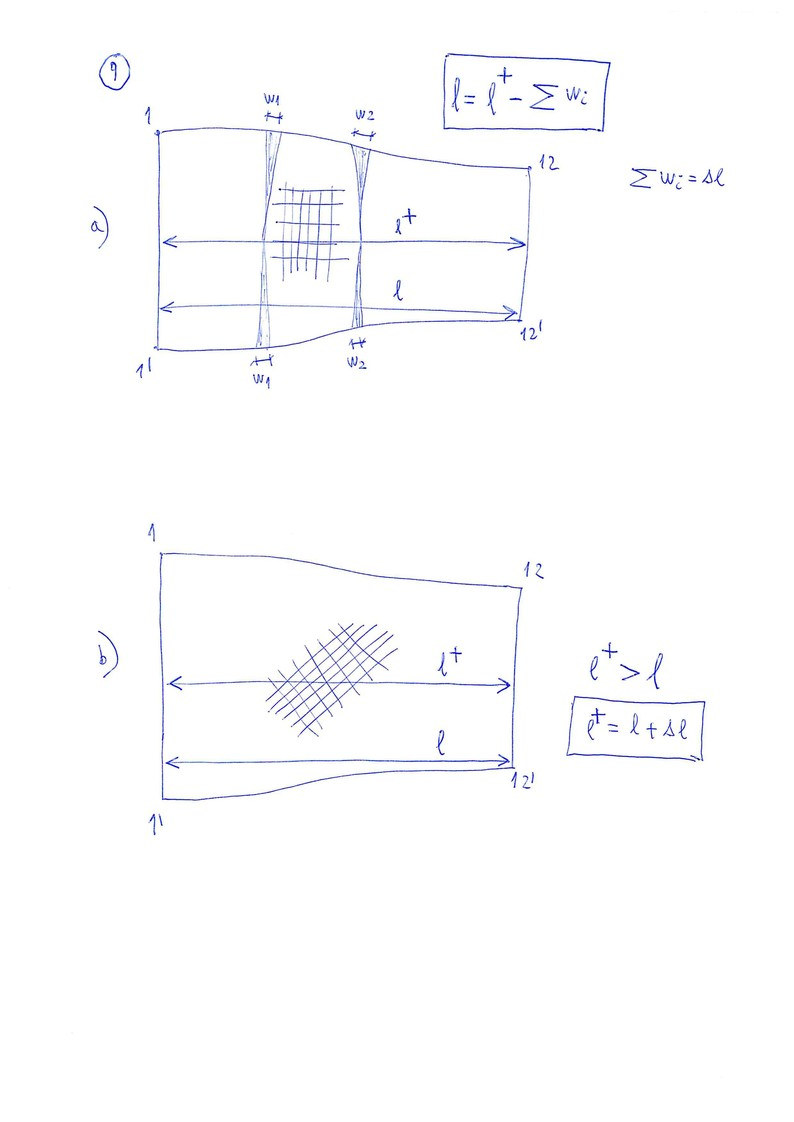 Using tree pieces of fabric.
The basic idea
is to allow
ovalization
using
a
development
with almost
flat
panels
.
3D-Shaping in one image:
More graphical and numerical experiments soon.
A

graphic

al

experiment

i

s a

drawing.


Even

handmade

, we can

zoom in

and

explore

interesting

details.

We have a lot of zoom!
We will do

more

graphical

experiments

,

by hand

and

by computer.

12. 3D-Shaping using several tranversal cuts

Graphic experiment, added August 2018


This option is obvious
and simple to sew.
What is the goal of 3D-shaping?
Simply adapt the fabric to the curved surfaces in two directions, so that the fabric works with a uniform tension.
And that is useful?
We need to make more graphical and practical experiments to decide.
Look closely at Figure 12.


In the areas of profile
that are
almost straight (little curvature), the ovalized surface is a cylinder, which is developable in plan.
In the areas of great curvature (nose) there is the problem that the panel is longer in the center than in the edges.
We need more fabric in the center.
A solution is to cut the panel transversely and progressively add tissue to the central zone by means of an arc.
The arc will be equal to each side of the cut to allow a coincident seam.
With one, two, or three cuts, we can get a very exact surface.
Of course it is always an approach.



Calculation algorithm:
Define the zone where we apply the 3D.
Calculate increment of length (Dl) along the center of the panel, due to ovalization.
Define one or more cutting points 1,2,3...
Distribute the length increase (Dl) between the cutting points Dl1,Dl2,Dl3..., proportionally to the local curvature.
Draw the corresponding arcs in the resulting panels.